EVOLUTION MTT POR
The Cooper Evolution MTT P.O.R.: Made for the Mud. This tire gives you the confidence to power through mud and tackle dirt roads.
Show available sizes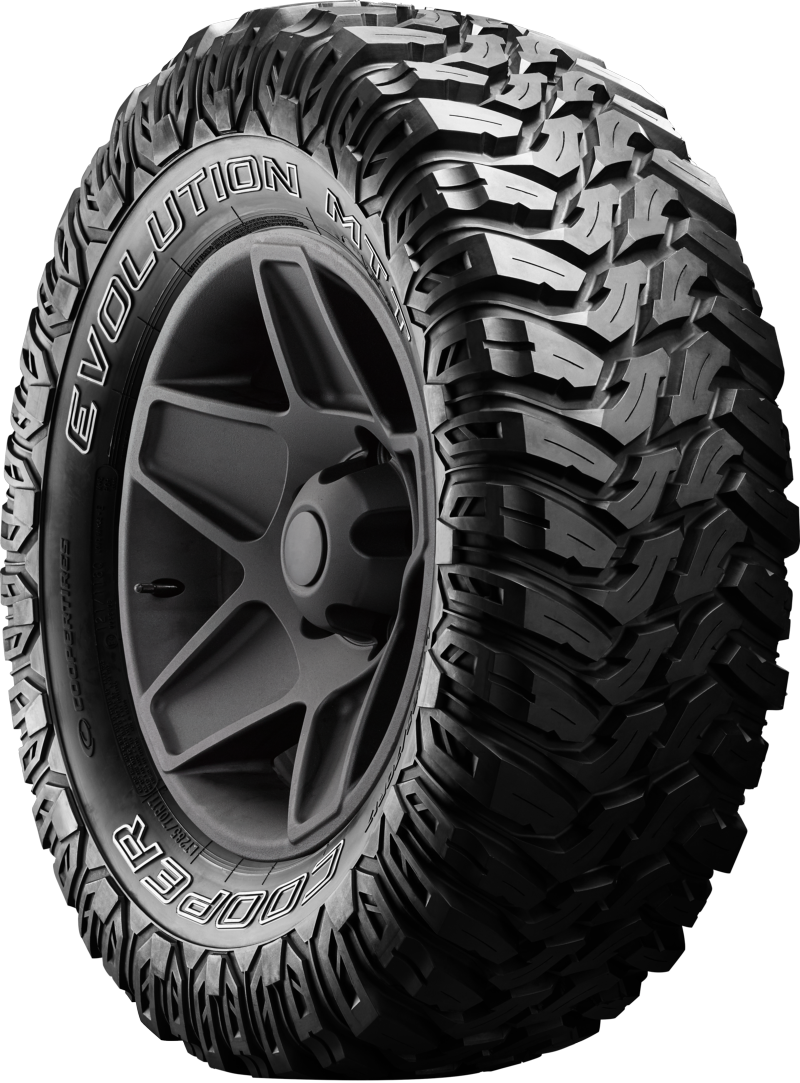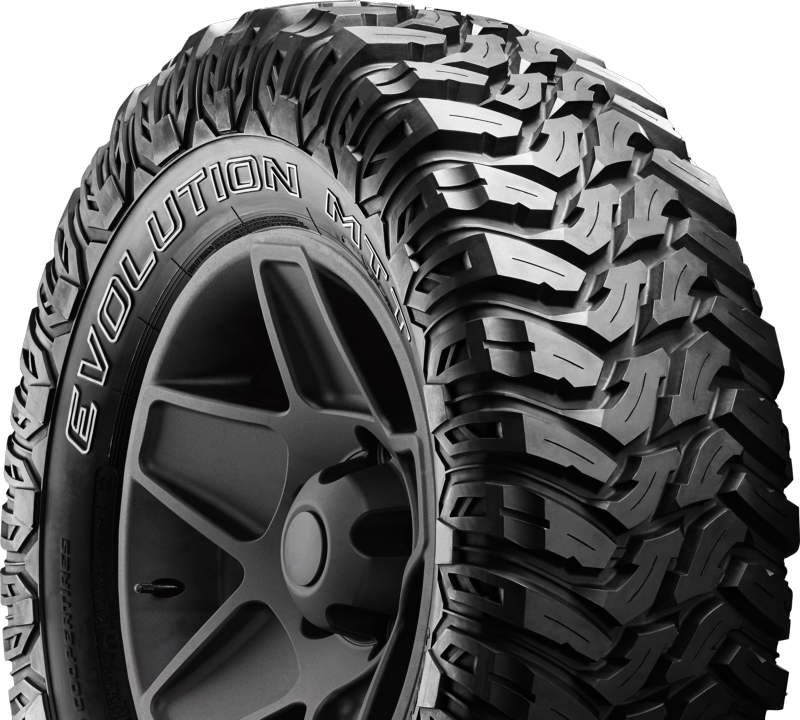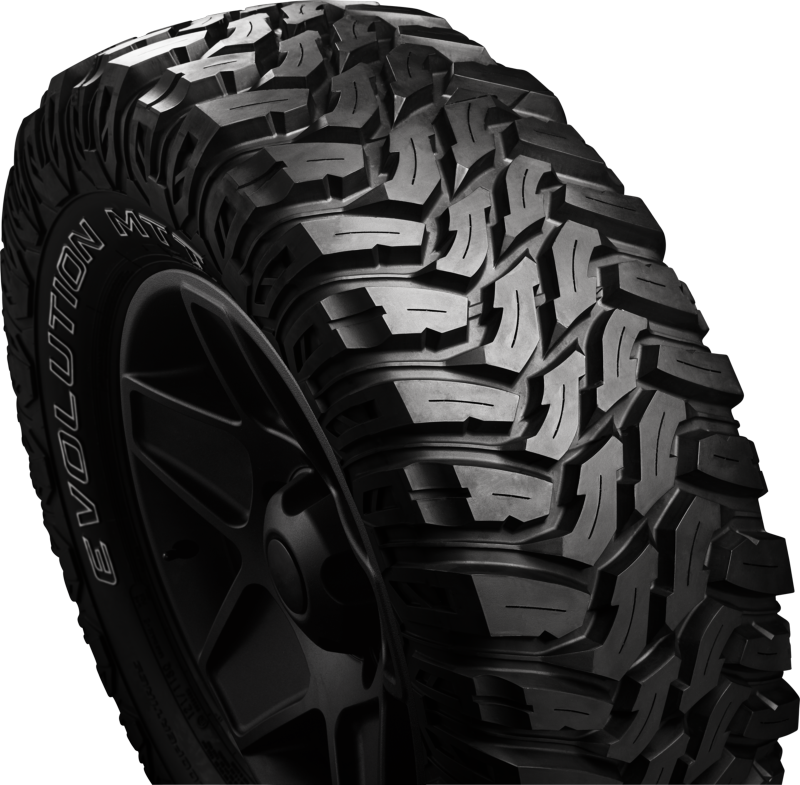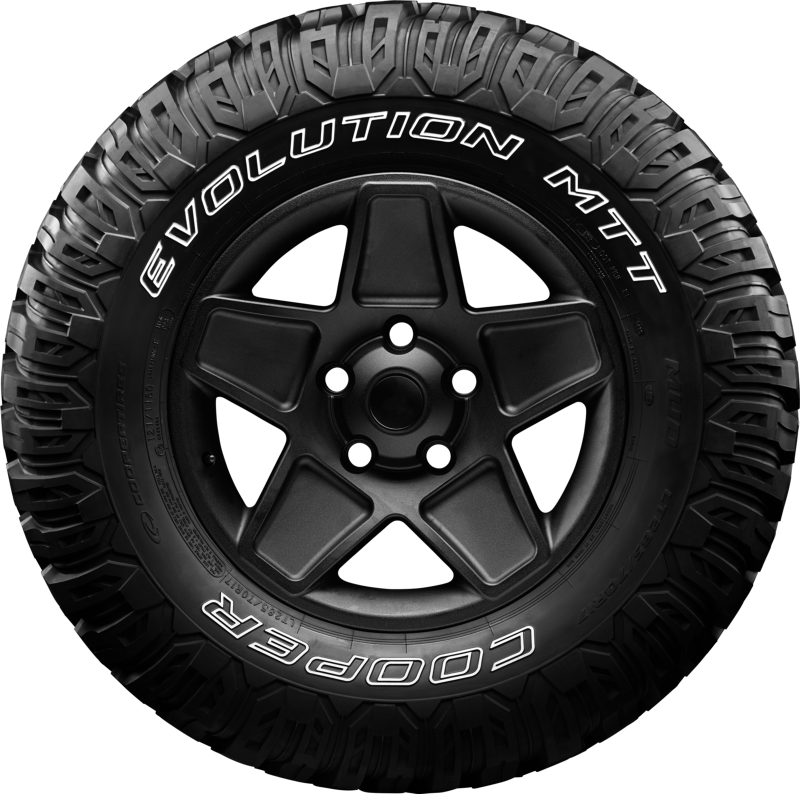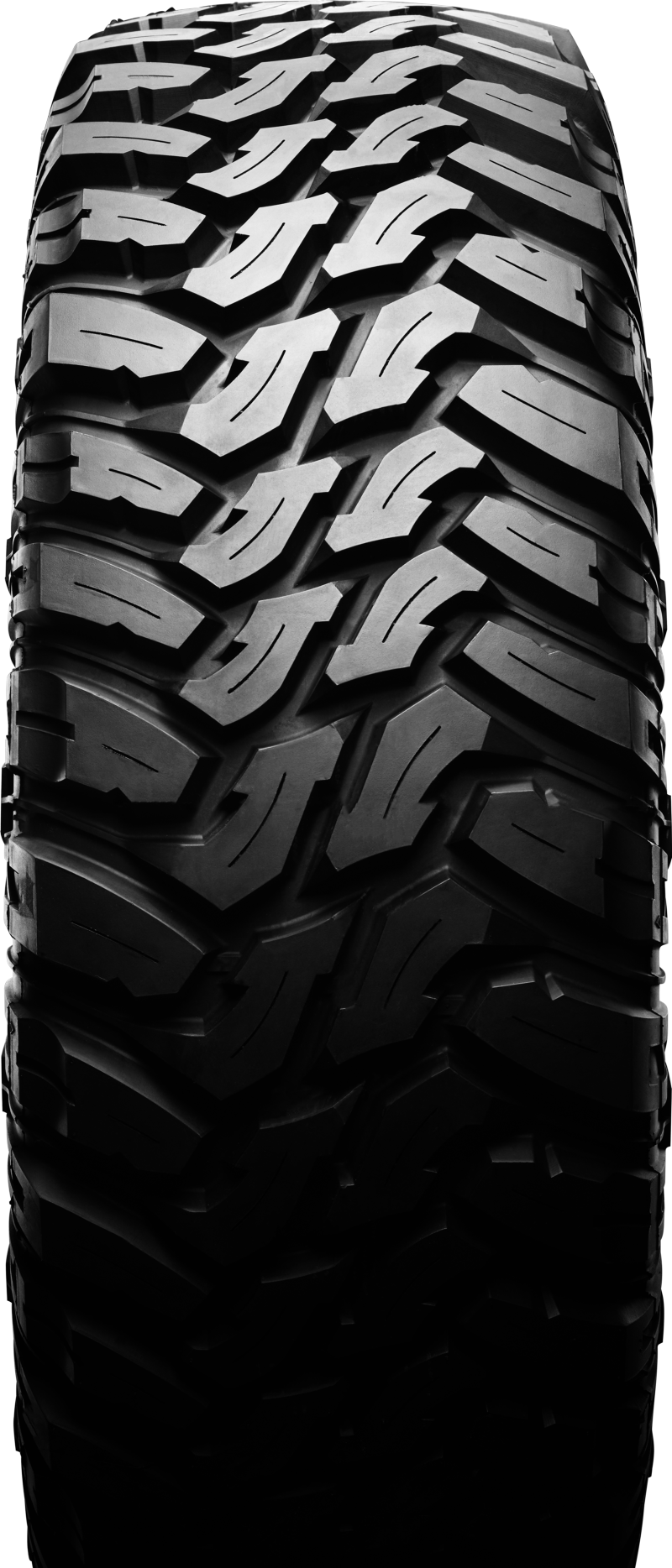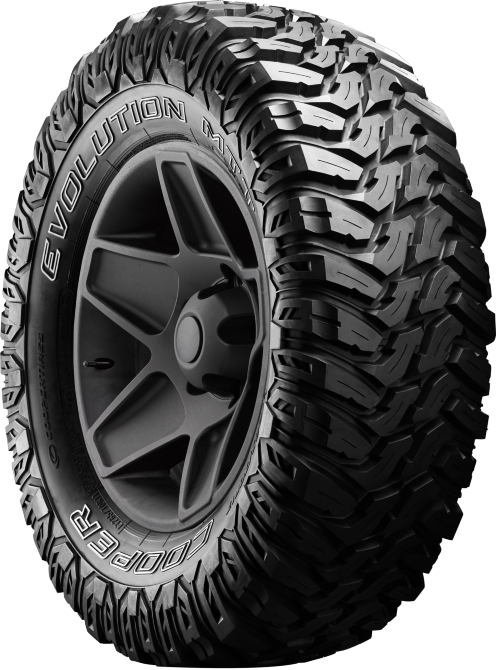 Features
The tire's ability to grip the road in dry conditions.
The tire's ability to grip the road in wet conditions.
The wear rate of the tire.
The measure of how quiet a tire is while driving.
How the tire is able to respond to driving such as accelerating, braking, steering and turning.
The tire's ability to have grip on unpaved surfaces such as dirt, mud, sand, rock or gravel.
*When compared to other Cooper® tires
EVOLUTION MTT POR
Bold tread pattern

designed to tackle mud with enhanced traction and angled tread blocks that are strategically positioned to get maximum traction on wet surfaces.

Armor Tek3® construction

for additional sidewall protection

The aggressive tread design extends far down the sidewall of the tire

which provides extra grip for climbing.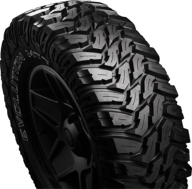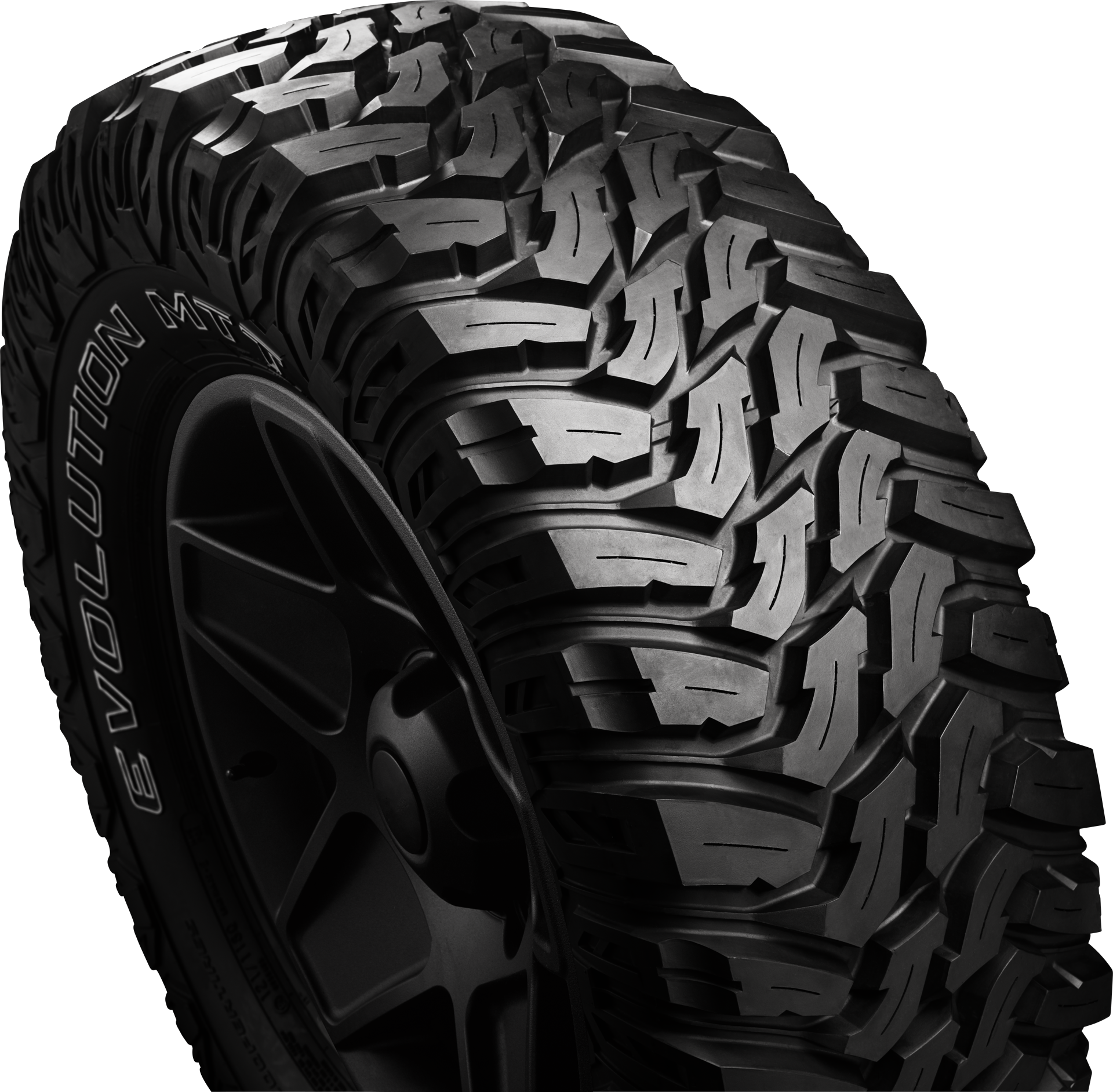 Full specs
Tire specifications
There are 8 tire sizes available
Tire size

The tire size is made up of: Tread Width / Aspect Ratio / Rim Diameter. For example 245/50R18

Width

The tire width is a millimetre measurement for the width of the tire. For example 245 mm when reading a tire size of 245/50R18

Aspect ratio

The aspect ratio is the percentage of the height of the sidewall compared to the tread width. For example 50% when reading a tire size of 245/50R18

Load

The maximum load a tire can carry is defined as a 'Load Index'. Please refer to https://www.coopertire.co.uk/tire-safety-tips/correct-loading/

Speed rating

The Speed Symbol is shown as a letter and indicates the maximum speed. Please refer to https://www.coopertire.co.uk/tire-safety-tips/correct-loading

Max speed

(cannot find text: coopertires_sites:webdesigns.cooper.tooltips.max_speed)

Sidewall

(cannot find text: coopertires_sites:webdesigns.cooper.tooltips.sidewall)

Roll resistance

Rolling Resistance is the main key factor in measuring the energy efficiency of a tire and has direct influence on the fuel consumption of a vehicle. A set of tires of the green class "A" compared to a "G" class can reduce fuel consumption by 7.5% of a passenger car; even more for trucks.

Wet grip

Basis for wet grip is the absolute stopping distance when driving 80km per hour. Between each class, there are 3-6 metres difference in braking distance.

Noise level

The driving by noise is quote as an absolute value in decibel and as a 3 classes sound wave symbol.

EU label

(cannot find text: coopertires_sites:webdesigns.cooper.tooltips.eu_label)

LT285/70 R 17
285
70
121
Q
160
Outlined White Lettering
N/A
N/A
N/A
N/A
LT265/70 R 17
265
70
121
Q
160
Outlined White Lettering
N/A
N/A
N/A
N/A
LT245/70 R 17
245
70
119
Q
160
N/A
N/A
N/A
N/A
LT255/70 R 16
255
70
108
Q
160
Outlined White Lettering
N/A
N/A
N/A
N/A
LT245/75 R 16
245
75
120
Q
160
N/A
N/A
N/A
N/A
LT225/75 R 16
225
75
115
Q
160
Outlined White Lettering
N/A
N/A
N/A
N/A
LT33/12.50 R 15
33
12.50
108
Q
160
Outlined White Lettering
N/A
N/A
N/A
N/A
LT31/10.50 R 15
31
10.50
109
Q
160
Outlined White Lettering
N/A
N/A
N/A
N/A